Service
"Turbo"
The "Turbo" service temporarily increases the speed up to 100 Mbps or 1 Gbps (depending on the speed of the connection port and the capabilities of your equipment) for receiving and transmitting. After the expiration of the "24 hours" time period, the access speed will be restored in accordance with the parameters of your tariff plan. Write-off of funds for the provided service is made immediately upon the fact of ordering the service.
If the terms of your tariff plan suit you, but from time to time you do not have enough speed to quickly download and transfer large files, or to test your equipment for throughput, we suggest using the Turbo service.
Service activation cost:
24 UAH.
Valid exactly 24 hours from the moment of service activation.
Connection instruction
In your personal account, select the service "Turbo"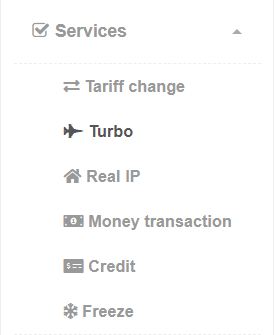 Enter the password for your personal account

Restart the internet for the service to be activated