Service
"Limit credit"
Credits necessary to enable users to receive services after the paid period. We set a period of 7 days so that the user can pay for services during this time and, without discomfort, continue to use the Internet.
"Limit (credit)" increases 1 time within a calendar month for a period of 7 days.
Service activation cost:
10 UAH.
Note:
when replenishing the account within 24 hours, the money will be returned after the end of the service to the subscriber's balance plus. (On bank days only).
Connection instruction
In your personal account, select the service "Limit-credit"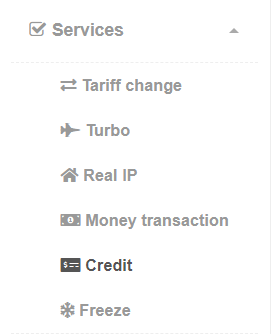 Enter the password for your personal account

Restart the Internet for the service to be activated